The Complete Guide to Joomla SEO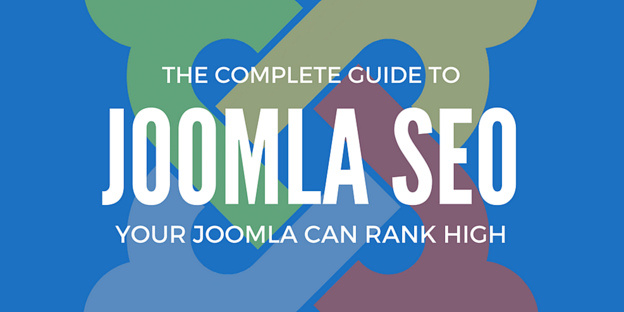 Continues after this ▼

Oh my, so many incomplete, obsolete and inaccurate SEO guides to Joomla out there! I just thought I had to do something about it, and do it thoroughly. So folks, here it is: The complete guide to Joomla SEO, with steps listed in order of priority. I will describe some of the steps more thoroughly in How-To posts later.
1. Activate Linked Titles
Make sure you activate Linked Titles on the frontpage and on all your section/category pages. Links with proper keywords in their anchor text is the most important SEO factor. This is true both with incoming links from other websites and with your own internal links. The anchor text tells the search engine what the target page is about.
Here's how to activate Linked Titles in Joomla 3:
Go to System menu > Global Configuration
In the Component list to the left, click Article
For Linked Titles, switch to Yes


2. Use keywords in your article titles
In your article title, make sure you use the keyword that is most important for that article. But remember: The title of the article will be the headline in the SERP, so the title must also attract clicks. Noone clicks on a keword stuffed nonsense headline in SERP.
3. Make categories from keywords
When you create categories, make sure you name it by the most important keyword for that category content.
4. Make menu links from keywords
When you create menu links, use the most important keyword for the targeted content.
5. Optimize your global site title
Evaluate if your global site title (site name) is important to show in the SERP for branding reasons. If you don't go for branding, then don't use global title. Just let the title of each article be what shows up in the SERP. The fewer characters you use in the title, the more relevance is given to each keyword. If you decide to use global title for branding, let it show in the end of the title, after a dash, and make it short!
Here's how to change your global title in Joomla 3:
Go to Menus > Main menu (the menu that contains the link to your Home page)
Click the menu item that represents your Home (start) page to edit it
Click the tab Page Display
Edit the field Browser Page Title


6. Consider using a html site map
When do you need a html site map? Well, if you find it difficult to link to every single page of your website from your start page, at least within the reach of two clicks, then you should consider using a html site map (a page containing links to ever page on your site). Then add a link to the sitemap in the footer of the template so that every page your website links to the sitemap.
7. Use an XML-sitemap
You should submit an XML-sitemap to Google, Bing, and other search engines.
The free extension OSMap helps you setting up both html and xml sitemaps.
8. Write articles for 1-3 keywords at a time
Use the most important keyword near the beginning of the first paragraph. Write content that helps people or write something that stands out. Think: What content would I link to? Don't use the keywords too often. Check with a keyword density tool. Link internally to other articles on your site using keywords, like I just did in the previous sentence.
9. Link every page on your site to your homepage
Link every single page on your site to your homepage using the most important keyword in the anchor text. You can use a simple text link in the footer or you can link the logotype at the top. Just make sure you have the keyword in the alt-attribute of the linked image.
10. Use correct semantic markup
Use correct semantic markup for your content:
<h1> for main title (should be done by your template). Use H1 only once per page (not around your logo).
<h2> and <h3> for subtitles. Use subtitles! Makes your text easier to read and improves SEO.
<p> for paragraphs, <blockquote> for quotes, <q> for short quotes, and <cite> for citations (read more).
Use lists – readers like it = Google likes it!
11. Use ALT-tag for images
Make sure you use the ALT-attribute for correct image description, including the most important keyword. If you link the image, use the Title-attribute (that goes for all other links as well).
12. Check your robots.txt
Your robots.txt should not block search engines from indexing your images folder, which the standard robots.txt did in older Joomla versions. Image search is huge, so why block that potential traffic source for your website? If your robots.txt file contains this row, delete it:
Disallow: /images/
13. Use SEF urls
Some argue that SEF urls is no longer important, but it sure is (read why in my post Five reasons to use SEF urls). Fortunately, it is easy to enable SEF urls nowadays (will write a post how to) since it is a part of the core in Joomla 3. But if you invest in the extension sh404SEF, you will also get some bonus SEO tools worth considering, such as:
Rel=canonical tag to prevent canonical content penalty
Open Graph tags for great display on social media
Twiter Cards support
Security harderners, and much more.
14. Help people find your content
Tell people about your great content. Post your articles on Twitter, Google+, Pinterest, Facebook, and other social media platforms. Help people on forums and show your website link in your signature. Ask bloggers in your sphere to comment on an article you just wrote. If your content is good, and if you let people know that it exists, you will get inbound links, which is fundamental for search engine ranking. This art is called Link Building and is not a specific Joomla SEO topic.
As said in the beginning, I will add some detailed descriptions later. Did I forget something? Please comment!